Selling with The Cobbs Auctioneers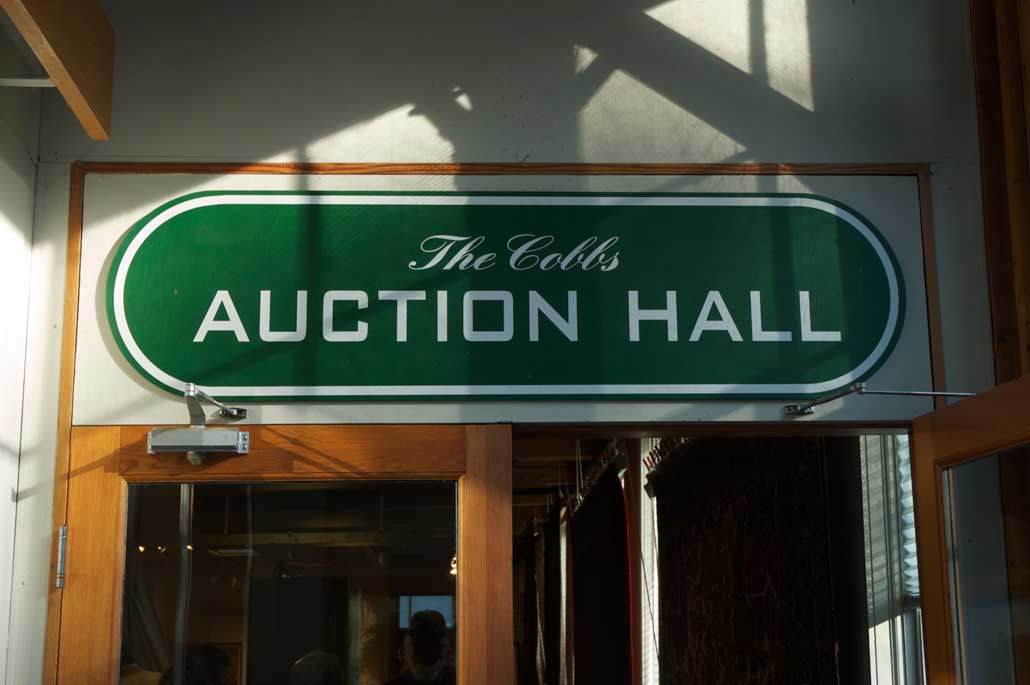 We understand that choosing an auction house is a difficult decision. When you choose The Cobbs Auctioneers you are choosing a business with a reputation for honesty and dedication to our customers. One of our primary missions is to provide a transparent and enjoyable auction experience for both buyers and sellers. We take extra measures to both expose our consignor's offerings to an international market and give our buyer customers the confidence to participate and make purchases, in an auction setting.

Below are some of the advantages of working with us and answers to some of the most commonly asked questions we receive from new customers.
Experience: When you sell with The Cobbs Auctioneers you benefit from decades of experience representing and promoting antiques and private collections at auction. The Cobbs will identify your important items and place them in the appropriate auction venues. Research, cataloging and photography are next, followed by advertising, website and brochure creation. Mailing lists and marketing approaches are then tailored to meet that particular venues needs. And finally, all interested buyers are brought together from around the world via the phone, the internet, absentee bids and of course live bidders in our auction hall and that one person truly willing to pay the highest price for your item is the winner. And so are you.
No Sales Tax: Another significant advantage that benefits sellers and buyers alike is the fact that there is NO SALES TAX IN NH. This allows buyers to spend 6.5% to 10% more per lot which means 6.5% to 10% more in proceeds for our consignors.
No Photography Fees: Unlike other auction houses we do not charge for photographing your items. Many auction houses will charge you a photography fee of $25.00 to $75.00 per item.
No web hosting or live auction Fees: The Cobbs Auctioneers does not charge you for placing you item or collection on our own company website or on our affiliate websites such as auctionzip.com (local and national exposure) - artfact.com (national and international exposure) - invaluable.com (exposure to British, European, Eastern Block, Asian, Australian and all other Nations of the world).
Advertising: The Cobbs Auctioneers have developed extensive National and International mailing lists of museums, collectors and dealers that we have garnered over the past 45 years and we put these lists to work for you. The Cobbs Auctioneers does not charge our sellers for the use of these lists or for the costs of producing, printing and mailing of the auction brochures to these potential buyers. If we feel that your item may require or benefit from additional targeted promotional coverage we will discuss with you a customized advertising campaign and the possible additional fees.
Personal Attention: When you choose The Cobbs Auctioneers we treat you like you're part of our family. You can reach all of us on the phone and you can come see us in person. We will sit down with you and discuss your needs and answer your questions in a respectful manner. We understand that for many people the auction experience is unfamiliar and can be intimidating.
Our location: The Cobbs Auctioneers calls historic "Noone Falls Mill" their home. Purchased by The Cobbs family in 1998, this circa 1870 antique brick woolens mill has been restored to its previous splendor. Because of the mills size our auction hall is comfortable and spacious. A unique exposed wood beamed truss-work roof structure allows for a completely open auction hall that displays antiques and modern works beautifully. Situated in the heart of Olde New England and the Monadnock Region we attract visitors from around the world year round. For breakfast you may purchase food in our Café' or if you prefer for lunch and dinner you may dine in the fine Japanese and Chinese Cuisine restaurant located in the Mill. For our foreign and out of state customers The Cobbs offers luxury accommodations on site or you may choose to stay in one of the Monadnock Regions Historic Inns or Bed and Breakfasts. Additionally, Manchester-Boston Regional Airport is just 45 minutes away and offers our national and international customers easy access to The Cobbs Auctioneers auction events.
We will help you make shipping/trucking arrangements: We have many clients ship their valuables to us from accross the United States. After our initial consultation on the phone and through email we will provide you with an appraisal of your item or collection for insurance purposes and then you may ship them to us for auction. We recommend the use of professional shippers and can help you determine which shippers to use for specific types of items. We can also arrange the packing and moving of your collection or entire estate to our auction facilities. Please contact us and we will discuss this option with you in person.
Many other clients decide to deliver their items in person and take a sight seeing tour of the historic Monadnock Region at the same time. We're happy to meet you in person and can help you plan your visit to make the most of your time with us. Please contact us before visiting to make an appointment.
For those who are unfamiliar with the auction experience we have a more detailed summary of the consignment process.
Preliminary evaluation. The first step towards auction consignment is to determine your objects suitability for auction. The best way to start this process is to contact us by email at info@thecobbs.com . The more information you can give us about your objects the easier it will be for us to determine remotely how to proceed. IF possible include a description, a detailed photo (with pertinent signatures if applicable). You can submit the information and photo by mail or by calling us. Often times we can arrange for a visit to your home.
What To Expect - All sellers (consignors) will be issued a unique consigner number and a contract detailing our sale procedures and commission rate. We are patient and understand you may have questions and we will take as long as you need answering them.
Prior to the sale in which your item has been consigned you will be sent a brochure or catalog for that sale with sale preview dates and times and welcome you to attend both. You may also watch the sale online from numerous sites (with the exception of the serendipity sales which are not available online).

Reserve – An item can be sold with a reserve price. This is the lowest amount at which the consignor is willing to let the item sell for. Although the reserve price is not public, the auctioneer will incorporate the reserve price in the catalogues estimate. The auction house will acknowledge when an item failed to meet its reserve after the close of bidding

Non-Sale Items - If your item does not sell or fails to reach reserve, you have the option of putting it in another auction or taking it back. If your item was reserved we recommend lowering your reserve the next time. We will contact you as to what we think the best course of action is.
Receive Payment – The Cobbs will furnish the customer with a detailed list of all the items that sold or passed with the hammer price for each item sold. Hammer price is the price established by the last bidder and acknowledge by the auctioneer as sold. The auction house will deduct our commission and will issue a check to the seller after we have received payment for the items and payment has cleared. Since we do offer multiple venues for our buyers to participate in our auctions collecting payment in some cases can take over 30 days.